All-electric model "is not impossible," he says
Following the successful launch of the third new Porsche 911 developed during his 18-year stint as product director of the iconic sports car, "Mr. 911" August Achleitner is transitioning to retirement. The Austrian-born mechanical engineer who started at Porsche in the chassis development department in 1983 will spend the first quarter of 2019 attending media launches of various 992-generation models and handing the reins to Porsche's current head of motorsports, Frank-Steffen Walliser. We caught up with Achleitner at the official introduction of the 911 Cabriolet (and 718 Boxster/Cayman T models he also had responsibility for) at the Geneva motor show to chat about the challenge of reengineering an icon and his hopes for the 911's future.
Is developing the next 911 the world's easiest or hardest job?
What we are presenting today has involved decisions made over the past three years, and the Porsche engineer is always creative. There are of course new ideas. We get results out of pre-development activities. We get results of feedback from the customer and from the press of course, and we have to fulfill requirements from all over the world. We mix it together, and define the next sports car after this one—which is obviously better than the old one.
Your predecessor introduced water-cooling. What was your biggest change?
The change from the normally aspirated engines to the turbocharged Carreras. This was not an easy decision for us because our normally aspirated engines had a characteristic sound and the ability to rev to almost 8,000 rpm. We decided, okay let's change to the turbocharged engine, but we want to keep the behavior and the characteristic of the normally aspirated engines, and I think it worked quite well. The feedback is good from all customers and we still rev to 7,500. This, in combination with high torque at low revs, makes the engine better than the old one.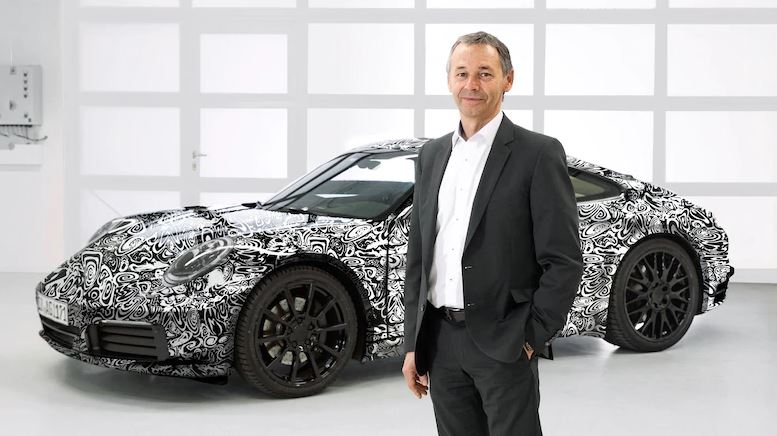 August Achleitner with a camouflaged 2020 911
What about plans to electrify the 911?
With the new 992 vehicle we wanted to make the car suitable for the future, and that includes the possibility to integrate an electric-drive. The new four-shaft PDK is more compact, so we could offer more space between these shafts and the engine itself where we can integrate an electric motor. Together with this hardware solution we also have the software solution because the electronic platform of this car is the same system as in the Panamera.
Why not offer hybridization from the start?
We are also developing the Taycan, the new electrically driven Macan, and a new platform with Audi. We have no engineers left to deliver such technology also for the 911, and the Taycan and the next Macan can fulfill all CO2 requirements for the company. Now if there are limitations on going into big cities we can react—that is the most important thing.